Sounds all over Europe have been beating down our door for a custom of Serengetis´ version of Rihannas Rudeboy. Big ups to all the sounds and dj´s who´ve supported us by playing our version and keeping Serengetis´ name hot like fire. Here´s an updated link spread it, spread it!
Download Soundboy here
or visit http://www.mediafire.com/?nmztzzjcikz

Visit www.mariaplan.com to win a signed copy of Serengetis' debut album Standing Steady… Big up Mariplan!!! Majonaaa!!!

A while ago we were in Stuttgart and linked up with Shotta Paul and Meska outta Sentinel Sound (one of Germanys most respected sounds..) for an exclusive interview on their radioshow…
If you wanna hear some new Serengeti tunes, a wicked dubplate and nuff chitchating….Just follow this link and LISTEN!!! KINGSTON HOT RADIOSHOW!!!
Serengeti on Kingston Hot Radioshow
Big ups to Meska and Shotta!!!
Right now Serengeti and Lady Louise are touring south Germany. We started with a show in Winnenden (Big up Fi Pleasure Sound!) and yesterday we made a visit at the Kingston Hot Radio Show, hosted by Shotta Paul and Meska of Sentinel Sound. This radio show is Germanys most popular reggae/dancehall show… Big up yourself!!!
Today we gonna make a show in Raldolfzell am Bodensee alongside Zion Movement. Really nice vibes here!!!
Tomorrow we are going to Köningseggwalde, close to Ravensburg, to make a show at the big festival "Keep it Real Jam" alongside Civalizee Sound, Ward 21 and Keep it Real Crew. Looking forward to this!
Shouts outs to the masses of south Germany!!!
Guest apperance on Swedish TV4 5/5
This week Serengeti made a guest apperance on national Swedish TV together with backing band Hot This Year Band Deluxe. For those of you who didn´t catch the morning show check out the links below.
Bless
Live with Hot This Year Band Deluxe: Walk with an empress

Live with Hot This Year Band Deluxe: To the clouds

Interview (In Swedish)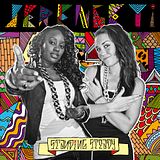 FINALLY the debut album "Standing Steady" from Serengeti is now available for purchase! Two years of hard work, sweat, laughs and tears have culminated in a 15 track CD jampacked with pulsating dancehall, loversrock reggae, soca vibes and afrobeats. Standing Steady is released on record label Illegyal Records, which Serengeti run together with Dj/beats poet Clara Star. Pictures from the release party held 16th april in their hometown Gothenburg will be posted soon. You can order the cd here or at SoundQuake and cdon.eu. For digital download go to emusic, Amazon, Itunes.
The duo are now preparing for the coming tourdates which include stops at Splash (GE), Ruhr Summer Festival (GE), Peace & Love Festival (SWE) and Uppsala Reggae Festival (SWE) as well as club shows alongside Dj/club promoter Lady Louise. More dates to be announced so keep an eye on this home page or our myspace for more info on shows near you.
Next week Serengeti is travelling to the culture capital of the world, Berlin to perform alongside Lady Louise, Dirty Ragga Squad, Phlatline Sound and Black Star Lightening @ Club Yaam.
It´s sure to be a big night with big sounds, big tunes in big bad berlin
Club Yaam 8 April 22hrs. Hope to see you there!

SERENGETI RELEASE PARTY, Gothenburg, Sweden 16/4
This is the official release date for the album "Standing Steady" in Sweden. It may take a little longer for the album to reach other countries but the it will be distributed on internetsites such as Soundquake.com, itunes, junodownload, spotify and so on within a few weeks… CHECK IT OUT!!!
Audio
I am the one
Audio clip: Adobe Flash Player (version 9 or above) is required to play this audio clip. Download the latest version here. You also need to have JavaScript enabled in your browser.
Tour Dates